Central Services Classified Senate
Your voice in shared governance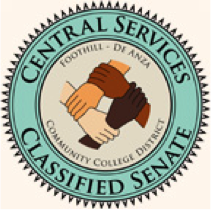 Central Services Classified Senate (CSCS) Purpose: It shall be the function of the Central Services Classified Senate to participate in the governance of the Foothill-De Anza Community College District; to actively collect, evaluate, and disseminate information for the classified staff; and to represent the collective interest of the classified staff before or on any governance or committee.
In addition to providing classified staff with a voice on district committees, the CSCS awards two $500 scholarships each year, sponsors the Employee Recognition Award, and organizes and helps fund Classified Professional Development Day, the spring mixer, summer barbecue and potluck, and the annual holiday party.
Meetings are held the first Wednesday of each month in the ETS Training Room (D120) from 9:30-10:30 a.m. or attend from your desk via Zoom. All are welcome to attend!
For more information or to get involved, please contact any of your CSCS representatives:
News/Upcoming Events
Next meeting: Wednesday, December 6, at 9:30 a.m. in the ETS Blue Room. Virtual attendance via Zoom is also available. Please contact Paula Norsell at norsellpaula@fhda.edu if you would like to be added to the invitation list. Click HERE for summaries of previous meetings.
Holiday party: Tuesday, December 12, at 11:30 a.m. at the Krause Center for Innovation.
Employee recognition - Nominate an outstanding Central Services employee for recognition. Click HERE for the nomination form.
Contribute
Whether you are able to make a big commitment or just a little one, the Central Services Classified Senate has many opportunities for you to get involved. Here are just a few of the ways you can contribute:
Volunteer - The classified senate welcomes volunteers to help with events and committees. If you are interested in serving, please contact Lindsay West at westlindsay@fhda.edu. Professional growth award credit is available!
Help a student in need - Help a student reach their dreams with a donation to the CSCS Scholarship Fund. Cash and check donations will be accepted at the holiday party (make checks payable to Foothill-De Anza Foundation and note "CSCS Scholarship Fund" in the memo field). You can also donate through a monthly payroll deduction. Click HERE for the payroll deduction form.
Support the work of CSCS - CSCS professional development, awards, and events are supported through your donations. Make a one-time contribution or set up monthly payroll deductions. Click HERE for the payroll deduction form.
Resources