Central Services Classified Senate
Your voice in shared governance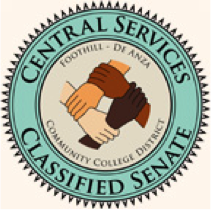 Central Services Classified Senate (CSCS) Purpose: It shall be the function of the Central Services Classified Senate to participate in the governance of the Foothill-De Anza Community College District; to actively collect, evaluate, and disseminate information for the classified staff; and to represent the collective interest of the classified staff before or on any governance or committee.
In addition to providing classified staff with a voice on district committees, the CSCS awards two $500 scholarships each year, sponsors the Employee Recognition Award, and organizes and helps fund Classified Professional Development Day, the spring mixer, summer barbecue and potluck, and the annual holiday party.
Meetings are generally held the fourth Tuesday of each month in the ETS Training Room (D120) from 10:00-11:00 a.m. and via Zoom. All are welcome to attend!
For more information or to get involved, please contact any of your CSCS representatives:
Office

Officeholder

Contact Information

President

Paula Norsell

norsellpaula@fhda.edu x6106

President-Elect

Kevin Metcalf

metcalfkevin@fhda.edu x6135

Treasurer

Mandy Thai

thaimandy@fhda.edu x6252

Secretary

Marty Kahn

kahnmarty@fhda.edu x6216

Past President

Monica Garcia

garciamonica@fhda.edu x7958

Senator, Accounting & Foundation

Joey Zhou

zhoujoey@fhda.edu x2919

Senator, ETS Systems & Applications

Vacant

Senator, ETS Network & Client Services

Pam Eberhardt

eberhardtpam@fhda.edu x6119

Senator, Human Resources & Chancellor's Office

Becky Bartindale

bartindalebecky@fhda.edu x6107

Senator, Purchasing & Plant Services

Jeannette Garcia

garciajeannette@fhda.edu x7264

Senator, Safety & Security

Aaron Izquierdo

Subcommittee

Chair

Contact Information

Publications

Monica Garcia/

Becky Bartindale

garciamonica@fhda.edu

Employee Recognition

Hong Nguyen

New Hire

Pam Eberhardt/

Araceli Kaliangara

Scholarship

Thuy Quach

District Committee

Representative

Alternate

Board of Trustees

Kevin Metcalf

Paula Norsell

District Budget Advisory Committee

Paula Norsell

Monica Garcia

Chancellor's Advisory Council

Kevin Metcalf

Paula Norsell

Educational Technology Advisory Committee

Marty Kahn

Pam Eberhardt

Human Resources Advisory Committee/District Diversity and Equity Advisory Committee

Becky Bartindale

Pam Eberhardt

Business Process Alignment Task Force

Pam Eberhardt

Foothill Classified Senate

Jeannette Garcia

Becky Bartindale

Classified Professional Development Day Planning Committee

Paula Norsell

Pam Eberhardt
News/Upcoming Events
Next meeting: Tuesday, October 22, at 10:30 a.m. in the ETS Training Room. Virtual attendance via Zoom is also available. Please contact Marty Kahn at kahnmarty@fhda.edu if you would like to be added to the invitation list. Click HERE for the agenda and summaries of previous meetings.
Employee recognition - Nominate an outstanding Central Services employee for recognition. Click HERE for the nomination form.
Contribute
Whether you are able to make a big commitment or just a little one, the Central Services Classified Senate has many opportunities for you to get involved. Here are just a few of the ways you can contribute:
Volunteer - The classified senate welcomes volunteers to help with events and committees. If you are interested in serving, please contact Paula Norsell at norsellpaula@fhda.edu. Professional growth award credit is available!
Help a student in need - Help a student reach their dreams with a donation to the CSCS Scholarship Fund. Cash and check donations will be accepted at the holiday party (make checks payable to Foothill-De Anza Foundation and note "CSCS Scholarship Fund" in the memo field). You can also donate through a monthly payroll deduction. Click HERE for the payroll deduction form.
Support the work of CSCS - CSCS professional development, awards, and events are supported through your donations. Make a one-time contribution or set up monthly payroll deductions. Click HERE for the payroll deduction form.
Resources